As mobile traffic continues to rise, companies are being urged to take a 'mobile-first' approach to eCommerce. Attracting online customers, increasing engagement and maximizing sales depends on meeting – and exceeding – customer expectations, but is your product configurator up to the task?
Mobile Traffic Continues to Dominate
Since mobile internet speeds have become faster and data costs have dropped, mobile traffic has steadily increased. In fact, mobile traffic now accounts for more than 59% of global internet traffic (Statista, 2022).
While mobile internet usage enables people to access the web when they're on the go, enhanced performance means that an increasing number are foregoing static connections in favor of 4G & 5G networks.
Mobile-Ready Product Configuration and Visualization
The rise in mobile internet traffic means companies need think 'mobile-first' when developing new online content and eCommerce tools. Google has already switched to a mobile-first algorithm, which indicates that mobile surfing is here to stay, and businesses can get ahead of the game by ensuring online eCommerce features, like 2D & 3D product configurators are mobile-ready.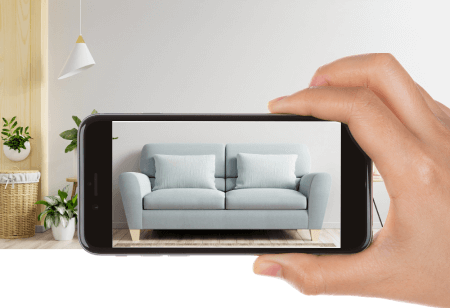 Try our mobile-ready augmented reality visualization tools now.
At CanvasLogic, we develop innovative product configuration and visualization solutions for the future, which is why our software is always mobile-ready. No matter what type of product configurator you need, our experienced team will ensure it offers optimal mobile and desktop functionality.
Augmented Reality on Mobile Devices
While 2D & 3D product configuration allows users to modify and view products in real-time, augmented reality (AR) takes things a step further and empowers users to view digital products in their real-world environment.
To increase accessibility and optimize the user experience (UX), it's essential that an AR visualizer is mobile-ready. This enables customers to use their preferred device when configuring and purchasing products, but it also means that a buyer can move around and experience the product from different angles and in different environments when viewing it in AR.
To learn more, why not try our mobile-ready augmented reality (AR) product visualization tools right now?
Alternatively, request a call with our team and learn more about out mobile-ready product configuration and visualization solutions.