The visual product customization (VPC) software market is expected to grow significantly in upcoming years as companies respond to increased demand for customizable products. According to a recent industry report, the market for VPC software will grow with a CAGR of 18.9% between 2022-2028 (DataIntelo, 2022), which means an increasing number of businesses will be using visual product customization tools to engage customers.
It should come as no surprise that businesses are using visual product customization software to increase engagement and boost sales. After all, visual CPQ tools and online product configuration give customers additional control over the products they buy and simplify the sale of complex products. But what's behind the forecasted industry growth and what factors are driving the market?
Here, we take a look at three reasons why the visual product customization software market is predicted to expand:
1. Increased Demand for Customizable Products
DataIntelo cites increased demand for customizable products as a primary reason behind the expected industry expansion. As consumers search for personalized, configurable or customizable products, companies need online configuration and visualization solutions if they want to continue selling online.
Traditionally, these type of 'complex products' required face-to-face selling, in-store visits or field sales but new technology, like CanvasLogic's 3D product configuration solutions, makes it possible for companies to sell complex products via websites, web shops and mobile apps.
PRO TIP: Use Automated Basket Additions to Improve Order Accuracy
Selling complex, configurable products could lead to order errors and returns if customers place incorrect orders or leave out critical components. At CavasLogic, our visual product configuration software incorporates automated basket additions, so that essential components are always included in a customer's order. This minimizes the risk of order errors, reduces return rates and increases customer satisfaction.
2. Growing Online Shopping Trend
Online shopping has grown in popularity in recent years, but this growth was fueled by the COVID-19 pandemic and subsequent lockdowns. As people were unable or hesitant to shop in-store, they switched to online shopping to meet their needs instead.
The increased convenience, speed of delivery and wide range of products available online means that online shopping is undoubtedly here to stay, and we can expect to see a continued rise in the number of people who utilize eCommerce services.
However, online shopping isn't just beneficial for consumers. As businesses scale back bricks and mortar outlets and focus on eCommerce growth, companies can drastically reduce operating costs by selling via websites, web shops and mobile apps.
Whether you're selling kitchens and furniture, clothes and cosmetics or groceries and books, eCommerce will help you to meet the demands of an increasingly digital customer base and visual product customization software allows you to sell online with greater accuracy and transparency.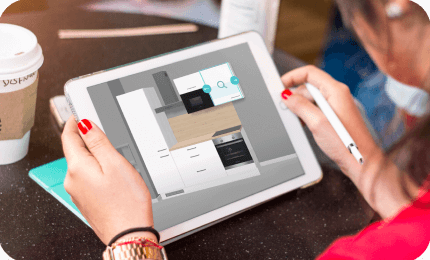 Try our product configuration software now
PRO TIP: Choose Configuration Solutions with eCommerce Integrations
When you're deciding what type of configuration and visualizations solutions to use, be sure to consider the integration options. Our team of developers work tirelessly to deliver turnkey solutions and end-to-end integrations that streamline the sales cycle and deliver optimal performance. From eCommerce platforms, like Shopify, SAP Hybris, BigCommerce, Magento and more, to ERP, PIM, and PLM software, our configuration solutions are professionally integrated with your existing infrastructure to optimize the online sales process.
3. Rising Use of Cloud-Based VPC Software
Transitioning to the cloud has become more popular than ever, particularly as business operations become more flexible and workforces routinely operate on a remote basis. Unsurprisingly, this has led to more companies using cloud-based visual product customization software to sell customizable products online too.
Choosing cloud-based VPC software gives companies increased flexibility and ensures that updates to product catalogs and pricing can be made in real-time, from any device. Furthermore, the high speeds available via cloud computing minimize the impact on in-house resources, ensure an optimal user experience (UX) and deliver real-time configurations and visualizations.
PRO TIP: Select Cloud-Based Configuration Tools for Your Brand
Cloud-based computing is beneficial for many reasons, and it can offer cost savings, improved efficiency, added flexibility and even enhanced cybersecurity. By choosing cloud-based configuration and visualization software, like CanvasLogic, you can accelerate your digital transformation, sell customizable products online, and seamlessly integrate 2D, 3D and AR product configurators into your website, web shop or mobile app.
Discover Visual Product Configuration and Visualization Solutions Now
If you're eager to find out how visual product configuration and visualization solutions can increase engagement, boost sales and attract new customers, we can help. Try our award-winning product configurators now or request a call with our talented team to learn more.