Product customization gives consumers and clients more control over what they buy and increases customer satisfaction by allowing purchasers to personalize their goods, but how do companies facilitate custom online orders?
The answer? eCommerce product configuration software!
In this article, we take a closer look at what eCommerce product configuration software is, what features to look out for and why it's critical for businesses to integrate product customization into their online stores.
How Does eCommerce Product Configuration Software Work?
If you sell customizable or configurable products, customers need to be able to personalize products online to facilitate eCommerce sales and expand your sales network. eCommerce product configuration software provides the functionality to make this possible.
While the technical aspects are rather complex, we can simplify the process to show how product configuration software operates:
For example, our eCommerce product configuration software incorporates a custom product catalog that stores data relating to your products, components and configuration options. We create 2D or 3D images of the products and/or components, so that each configuration option can be displayed visually on the screen.
Then, we input your configuration options into a bespoke rules-based engine that governs how users can configure a product online. If essential components are required to complete a configuration, we can even prompt users to add them or create automated basket addition 'rules', so that every configuration is viable.
When a user is satisfied with their configuration, your eCommerce product configuration software can enable them to submit, print and/or share the order or generate a proposal, depending on your preference.
What Types of Products Are Configurable?
Virtually any type of product can be created using eCommerce product configuration software, which means that a significant number of businesses can now integrate online sales into their operations.
Whereas customizable, personalized or configurable products once required face-to-face sales interactions, visual eCommerce product configuration streamlines the process and enables customers to configure the product digitally, without assistance.
If products are available in different color combinations or versions, for example, our single-product configurator software can provide users with a range of options to personalize the item before submitting an order.
Alternatively, more complex configuration requirements can be managed by our multi-product configurator software. When customers are purchasing 'complex products,' such as kitchens or bathrooms, multiple individual items (e.g., cupboards, doors, handles etc.) may be incorporated to make up the final product. With a powerful rules-based engine, we make it possible for users to customize multi-product configurations and simplify the sales process via photorealistic imagery and real-time functionality.
Integrating Product Configuration Software with Your eCommerce Store
Companies use a variety of different technologies to sell goods online. In many cases, businesses use established eCommerce software, such as BigCommerce, SAP Commerce Cloud, Shopware, Shopify, WooCommerce etc., to power their online sales portal, which is why it's important for your product configuration software to be 'integration ready'.
While ready-made product configuration plug-ins may appear to be an efficient and cost-effective way to integrate a configurator into your web store, this is rarely the case. In fact, these solutions tend to conflict with in-built features, offer a poor user experience (UX) and can even disrupt the existing functionality of your online sales portal.
So, if ready-made plug-ins aren't the answer, what other options are there?
Custom eCommerce Product Configuration Software
When eCommerce product configuration software is built and developed for your brand, you can be confident that it will integrate seamlessly into your current website or web shop and deliver an optimal UX.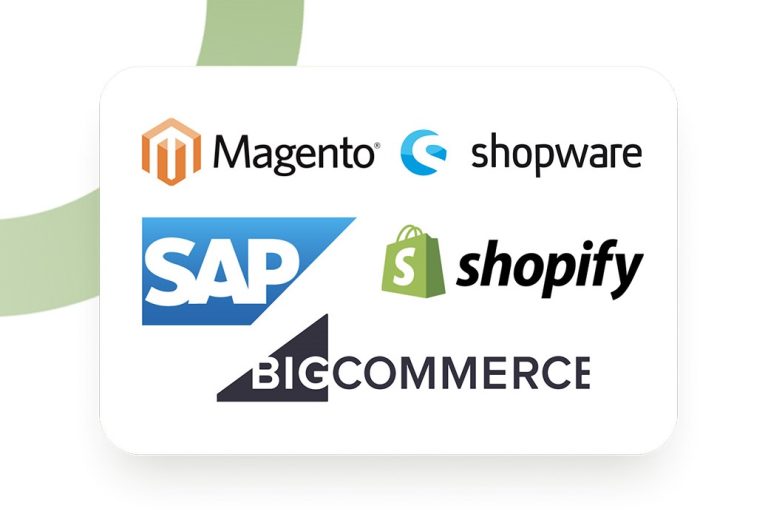 Operating as a turnkey solution, expert integration ensures peak functionality and performance, while bespoke features differentiate your brand and website from competitors.
However, these aren't the only advantages associated with custom eCommerce product configuration software. As well as being created according to your spec and in accordance with the requirements of your eCommerce platform, custom product configuration software can be integrated alongside other sales tech, such as ERP, PLM, PIM and CRM software.
This creates unified sales tools, in which product configuration software is fully aligned with your existing resources.
If you're using PIM software, for example, data in your configuration product catalog can be automatically updated so customers are able to view the latest prices and configure new products. Additionally, if you're using CRM software to store customer information, data can be securely transferred from your product configuration software when a customer places an order or submits their details.
With endless possibilities, custom eCommerce product configuration software gives businesses the opportunity to create and optimize cohesive online sales systems that simplify in-house management and improve the customer experience (CX).
What Features Should You Look For in an eCommerce Product Configurator?
Developing the right eCommerce product configurator for your brands means adopting the features that will provide the best CX to your target audience(s) and streamline your sales cycle, such as:
2D and 3D Photorealistic Imagery
As an eCommerce retailer, you'll understand the importance of presenting your products accurately online. When potential customers can't reach out and touch the product, it's vital that the imagery you use immerses the user in the customer journey and entices them to proceed with a purchase.
Whether you want to showcase products in 2D or 3D, we'll create engaging photorealistic imagery that provides a personalized UX when users are creating product configurations. Already have your own 2D image files or 3D renderings? No problem! We'll incorporate these into your product catalog and eCommerce product configuration software.
Augmented Reality Visualizations
Integrating augmented reality (AR) visualizations into your product configurator elevates the CX and allows users to see what customizable products will look like in their own environment. Not only does this improve the CX, but it also reduces order errors and increases customer satisfaction.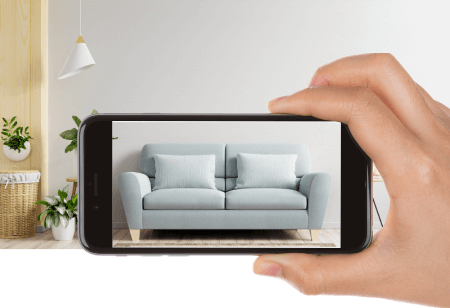 At CanvasLogic, our AR functionality enables customers to view products in situ via mobile devices and brings configurable and customizable products to life.
Real Time Functionality
Page loading speed has a huge impact on website performance and dramatically affects the UX. If your page loading speed increases from 1 second to 3 seconds, for example, you can expand your bounce rate to increase by 32% too.
When users are configuring products, adding features or customizing colors, it's even more important that your configuration software provides instant updates. To maximize conversion rates and optimize the UX, choose product configuration software that offers real time functionality.
Mobile Friendliness
Mobile devices account for almost half of all web traffic and this figure is increasing all the time. As a result, eCommerce retailers must ensure their website, web shop and eCommerce tools offer optimal mobile functionality to capture and retain mobile traffic.
If your customers use a smartphone or tablet, or they switch from desktop to mobile partway through a configuration, you'll want your configuration software to deliver a seamless mobile UX to avoid unnecessary abandonments and excessive bounce rates.
Easy Product Updates
Many eCommerce businesses modify their product lines on a regular basis, which means your configurator product catalog needs to be updated to reflect your latest products and prices. The back-end development of your configuration software will determine how easy it is to do this, but be sure to discuss this with your chosen developers in advance.
If it's time-consuming and complicated to update product information, your product catalog and, therefore, your configurator is likely to be out of date fairly quickly. In contrast, a user-friendly product catalog makes modifying product information simple and efficient and ensures your configuration software is always up to date.
Multi-Language User Interface
As an eCommerce retailer, you'll have the opportunity to sell products all over the world, but you'll need a multi-language website or web shop to facilitate this. Similarly, you'll want multi-language sales tools to nurture customers through the sales funnel.
Even if you're not selling products globally right now, choosing eCommerce product configuration software that supports multi-language functionality will enable you to pursue a range of global growth strategies in the future.
Talk to CanvasLogic about eCommerce Product Configuration Software Now
With more than 20 years' experience in product configuration software, CanvasLogic is perfectly placed to help you create innovative and engaging eCommerce configuration solutions.
Whether you're using an established eCommerce platform, such as SAP Commerce Cloud, BigCommerce, WooCommerce, Shopware, Magento or Shopify, or you're looking for a standalone product configurator, our in-house team will create custom solutions that are designed exclusively for your brand.
To learn more, contact CanvasLogic now.