About Joka
Based in Germany, JOKA is a well-known dealer of floors, wallpapers, home textiles and doors. Selling to both trade customers and end consumers, JOKA boasts 55 showrooms across Germany and an online platform for product sales.
JOKA not only offers top-quality products but also provides expert interior design assistance through its network of specialized craftsmen known as 'CityStores,' available in showrooms and via online consultations, all to enhance customer satisfaction.
"We were impressed with how interested the team were in our business and operations, and how they used this knowledge to create enhanced configuration solutions for the JOKA brand. As well as fulfilling our brief, CanvasLogic were on hand to provide advice and helped us to determine which features were most important to our target audiences. The JOKA door configurator is already being used by consumers, dealers and our employees and is getting rave reviews!"
Opportunity
JOKA's existing door configurator was completely geared towards 3D rendering and designed for in-house employees and trade customers only. With limited functionality, master data needed to be imported and exported manually, which resulted in expensive, labor-intensive processes when adding new product configuration options and door models. Further, slow loading times made the door configurator difficult to use and detracted from the overall user experience (UX).
The outdated product configuration tools did not provide access to newer digital functions, such as analytics, tracking and augmented reality (AR), which limited the company's integration options and further diminished the UX. As a result, the online door configurator was not future-proofed, nor was it compliant with JOKA's strategical and technological growth plans.
Understanding the value of product configuration solutions, JOKA was eager to retain door configuration functionality on their website. However, the company wanted a more cost-effective and user-friendly solution that could be integrated into their in-house systems and sales cycle. Included in the brief for JOKA's new door configurator was:
Suitable for use on the JOKA website and on dealers' websites (with a simple integration process for external dealers)
Web-based functionality
Configurations should be shown in 3D
Supports sales development via configuration and pricing tools
Can be used to nurture a modern, user-friendly dealer network
Simplified process to add new configurations and products
Cost-effective in terms of implementation and maintenance
Solution
The CanvasLogic team got to work researching JOKA's business, as well as its target audiences, to determine which features were most critical and how the product
configurator would be used. At the same time, we analyzed the existing configuration tool and identified causes of underperformance.
As well as delivering all aspects of JOKA's brief, CanvasLogic also recommended that the new JOKA door configurator:
Be mobile-ready
Offer cross-platform functionality
Deliver customer-specific product configurations, with corresponding pricing information
Enable configurations and orders to be sent to dealers and users
---
Logic Engine
Based on our 'Logic Engine 2.0', we set about transferring the configuration, price and visualization data from the existing software into a custom rules-based engine utilizing the Object Constraints language (UML standard). This ensures that user product configurations are always viable and reduces the risk of future order errors, as well as supporting any device or platform.
As part of the initial setup process, we defined the domain model, compiled product master data and implemented multiple configuration rules, as well as inputting updated variable pricing information into the Logic Engine so that each target segment could be catered for.
By storing graphic assets and pricing information in the cloud, we deliver increased functionality and enhanced configuration speeds. Now, photorealistic 3D images can be created and displayed in real-time, as the user modifies a configuration.
At the same time, accurate pricing and product information is instantly displayed. For example, the total price is calculated via a combination of product data and user inputs, such as door leaf design, door dimensions, glass price, cost of accessories and frame type and dimensions.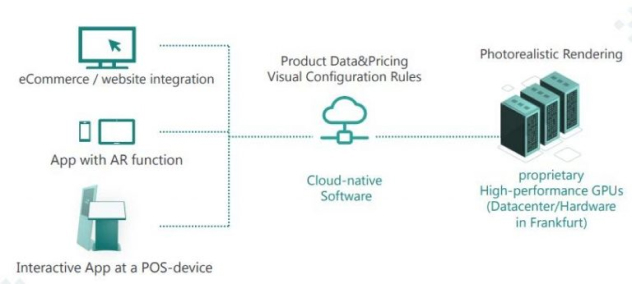 CanvasLogic's configuration model for JOKA
---
Visualization Engine
To build JOKA's product visualization engine, the CanvasLogic team migrated existing 3D product models, and added product textures and individual 3D environment rendering functionality.
With increased product visualization options, users can also make more defined product choices before placing an order, thus increasing customer satisfaction and reducing returns.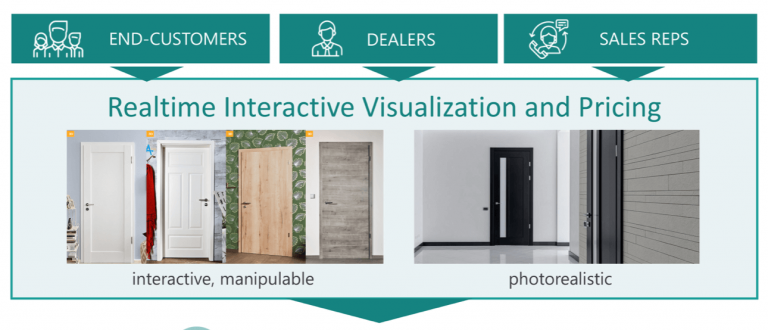 Visualization options to suit all of JOKA's target audience segments.
---
Integrations
By incorporating an integration layer into the configuration software, we enabled eCommerce, CRM, PIM, ERP and PLM systems to be fully integrated with the door configurator. Simplifying the sales process, the data and order information captured via the door configurator is now automatically updated within the relevant in-house systems.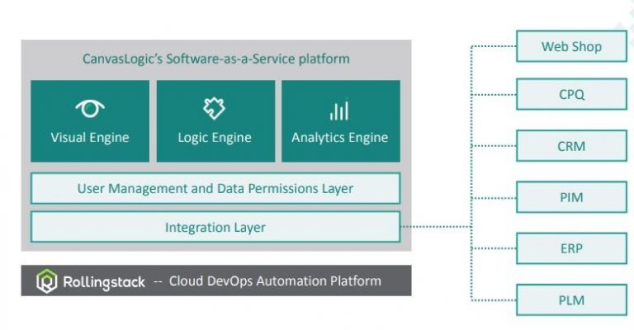 Functional integrations for JOKA.
---
User Interface (UI)
Creating a seamless user interface (UI) was a top priority throughout the course of this project, particularly as JOKA has varying target audiences. Now that the JOKA online door configurator can be used on any device or platform, it was important to use responsive design to develop a UI that was instantly recognizable and functional on monitors, smartphones, tables and point-of-sale (POS) systems. Get a glimpse of the UI CanvasLogic created for JOKA here:
---
Customer Journey
As part of the development process, CanvasLogic mapped customer journeys to ensure that the new JOKA online door configurator delivered value to both the business and every target audience (end-users, dealers and in-house employees).
Whether a user starts their journey using a mobile device, tablet, computer or POS system, orders can be created and submitted accurately and efficiently.
The first step in the process is for users to select a product using a range of filter options. Users can create and modify configurations in Edit Mode and view pricing and product information based on their target segment. Variable pricing information is displayed for dealers and end-users, for example.
From there, end-users can submit an inquiry to a dealer or to JOKA, depending on where their journey originates and download their order in PDF format. For retailers and distributors, the automated ordering process, along with rule-based configuration, simplifies the sale of configurable doors and accessories, thus reducing costs and increasing revenue.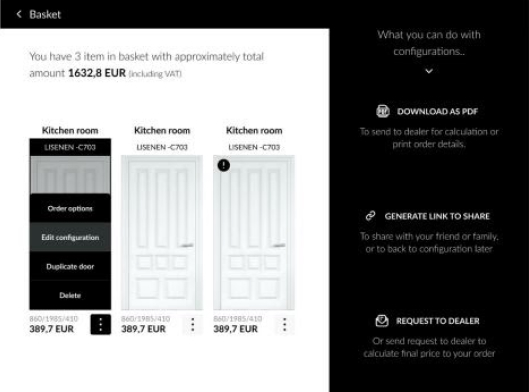 Shopping basket and inquiry options shown in a tablet display.
"Working with JOKA was an exciting opportunity for CanvasLogic and we relished the chance to improve their existing product configuration solutions. By switching to a rule-based engine and facilitating real-time rendering, we were able to create a door configurator with extended functionality. Taking a company and audience-centric approach ensured that JOKA's new product configuration software provides both commercial benefits and an optimal UX. We were delighted to work with JOKA on this project and are thrilled that their custom door configurator has launched with such success."
Outcome
Working in accordance with JOKA's brief, CanvasLogic created a bespoke, mobile-ready, cross-platform online door configurator that features an intuitive UI and provides a seamless UX to multiple target segments. In just 10 weeks, the team developed a custom rule-based engine that supports over 380 door leaf designs and configurations, with more being added as the product range expands.
Crucially, the new JOKA online door configurator offers increased integration options and automated ordering too. Supporting the company's plans for the future as well as providing target audiences with easy-to-use configuration tools, the JOKA door configurator is now available online.